Integrated Research Training Group (IRTG)-SFB 1243 Cancer Evolution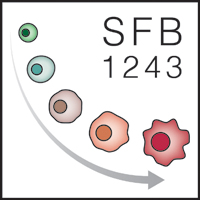 The Collaborative Research Center SFB 1243 Cancer Evolution (Genetic and Epigenetic Evolution of Hematopoietic Neoplasms) studies different aspects of cancer development in an evolutionary framework, in particular the grounds for the poor prognosis of acute myeloid leukemia and indolent lymphomas. Using interdisciplinary approaches, the projects aim to decipher molecular mechanisms, measure the evolution of genetic, epigenetic and transcriptional heterogeneity in patients, mice and cellular systems, and to quantify relevant parameters by applying computational models.
The IRTG 1243 is a graduate program offering training in state-of-the-art techniques, including genetic engineering, single cell genomics, next-generation sequencing and computational data analysis. Research projects are supervised collaboratively by clinicians, molecular biologists, population geneticists, computational and evolutionary biologists. Doctoral researchers are encouraged to develop networking and communication skills necessary for successful careers in science.
Since the SFB 1243 is comprised of scientists from LMU Munich, TUM, the corresponding university clinics LMU Klinikum and Klinikum Rechts der Isar, and the Helmholtz Zentrum München, the IRTG works closely with the corresponding institutional graduate schools (LSM, MMRS, TUM-GS, HELENA) to provide the best appropriate program content for individual members.
For more information, please see the graduate program section at www.sfb1243.bio.lmu.de.